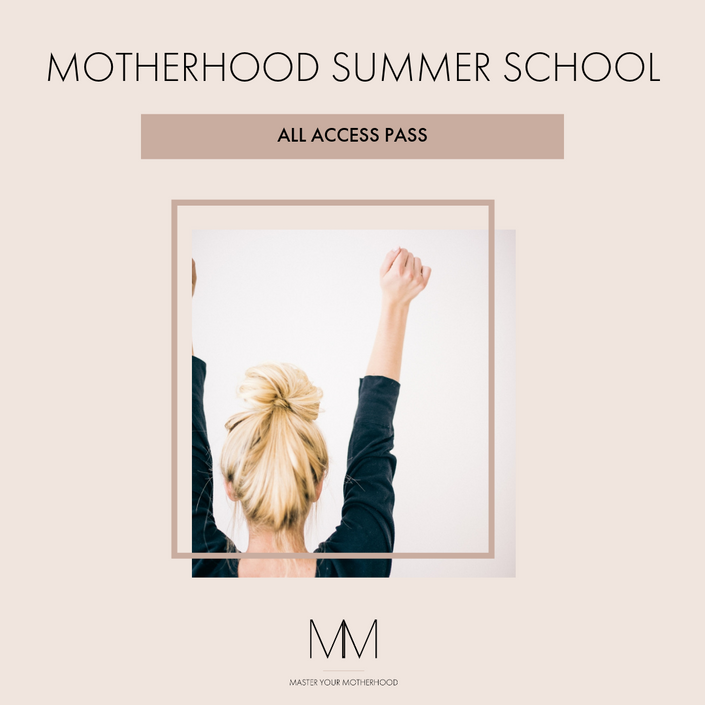 Summer School Trio | All Access Pass
Lifetime access to all three of our Motherhood Summer School Series to help you step into a more organized, peaceful and joy filled motherhood!
This course gives you lifetime access to all three of our Summer School Classes for Moms! Pause or rewind as you watch through and take notes with these life changing lessons.
---
Class 1: Time Blocking + Schedule Management
As mothers, our days can quickly become a blurry fog of kids activities, household chores, and other "to-do" items. We know from experience a little time spent planning what the week holds, allows priorities to fit, stress to be relieved and extra space for the right things to create a more energizing motherhood. Let us help you be intentional with every hour of the day.
In this class I am breaking down why to-do lists are your enemy and teaching you how to:
Prioritize all of your to-do's
Simplify your overwhelmed schedule
Create predictability (the kids will THRIVE)
How to time block properly
How to make your schedule serves you and your family
How to actually delegate without guilt
How to say no to things you hate doing
And how to find peace in your everyday
BONUS PDF guide included to help you have magical, stress free mornings as well as a "How to Structure Your Day as a SAHM".
Class 2: Cultivating a 'Family Team' Environment
When our family is not operating as a team we can quickly feel disengaged, stressed and mentally exhausted. Taking time to cultivate real, honest communication while walking through the needs and expectations of every family member creates a game plan that makes everyone feel like an active part. In this class, we will cover exactly how we structure our family meetings, what is discussed and the tools necessary to implement strategies that fit your own household.

In this class I am breaking down:
What the #1 complaint from moms is and how to fix it
Talking about normal household roles - and if they are really working for you.
Talking you through what a family meeting is and why they are vital to the health of your family
Teaching you how and when to conduct family meetings and giving you a roadmap to exactly how to do them
Breaking down how important a yearly family meeting is to set the tone for your entire year
How vital a monthly family meeting is to align your month
And how important a weekly family meeting is to communicate and delegate with your family, effectively.
and finally, how to positively discuss chores and household responsibilities without being forceful, controlling or naggy. (And get your kids excited about helping!)
Class #3: Master Your Motherhood Mindset
Walk a journey with us in working through our daily decisions, the thoughts that influence us and finding the right tools for you to move forward as a confident momma with a powerful, optimistic and motivating mindset. This class will give you the awareness needed to step into a better mindset which will be the spark to ignite change in all other areas of life.

In this class I am breaking down:
How our current society has ruined motherhood - and how to change your perspective
Talking about how us mothers, tend to lose ourself in our kids - and how to find yourself again.
Giving you actionable steps to take to dive deep into your circumstances - and how to change them
Talking about the choices you never knew you had
Teaching you the difference between a fixed mindset and a growth mindset - and how it will change your life
Giving you seven steps to change your mindset - and cultivate lifelong skills
Teaching you how to get through mental roadblocks - to get you to a healthier mental space
Destroying the lies that have been spoken over you - And covering them in new truths
And giving you practical steps to reset your mind - when times get tough
Course Curriculum
Welcome! Start Here!
Available in days
days after you enroll
Time Blocking and Schedule Management
Available in days
days after you enroll
Family Chores, Communication + Home Management
Available in days
days after you enroll
No part of this eBook or class may be reproduced or transmitted in any form or by any means, electronic or mechanical, including printing for the intent of sharing it with those who have not purchased the eBook themselves, photocopying, recording or by any information storage and retrieval system, without written permission from the author. The information provided within this eBook is for general informational purposes only. While we try to keep the information up-to-date and correct, there are no representations or warranties, express or implied, about the completeness, accuracy, reliability, suitability or availability with respect to the information, products, services, or related graphics contained in this eBook for any purpose. Any use of this information is at your own risk.

Your Instructor